For more than 115 years, students have flocked to the verdant campus of the University of Northwestern in St. Paul, Minnesota, to study the arts in a setting focused on a faith and fellowship.
Unfortunately, storage resources at the university were centuries behind the times. Kirk Moss, music professor and chair of the Department of Music and Theatre, and Tim Sawyer, director of choral activities, have curated the school's library of ensemble sheet music for years. It wasn't until recently that they enjoyed managing the collection as much as they enjoy teaching music.
Before Northwestern installed its very own custom mobile shelving system, Kirk and Tim were forced to relegate their collection to the basement beneath Northwestern's performing arts center – an inaccessible, unventilated tomb fit for the Phantom of the Opera but certainly not students and faculty.
Once space opened up in the library, the two jumped at the opportunity to bring their choral and instrumental arrangements to the surface and organize it all in a way that made sense to them and their curriculum. The move, however, would require a reimagining of how to store these sensitive materials.
What did Montel build for Northwestern?
After consulting with its local Authorized Montel Distributor, Northwestern decided on a Mobilex® mechanical-assist mobile shelving system, complete with SmartShelf® hardware and SafeCrank™ handles located on the end panels of each storage unit.
Here's how their decision made waves for arts education on campus:
Maximum space, minimal footprint
Without a sensible plan for optimizing space, the school could not in good conscience move its ensemble music collection to the library and risk disrupting everyday operations for such an important academic facility.
Luckily, Montel assessed how much space the library had available and deemed it more than enough for an efficiently designed mobile shelving system. Its collapsible design cut storage requirements in half and allowed Kirk and Tim to share the space and not overuse it.
Total accessibility
With the collection safely above ground, students and faculty wouldn't have to jump through hoops to access its contents, let alone manage or peruse them.
For Kirk and Tim especially, the move meant they could spend more time thinking about arrangements for the next concert and considering their options instead of worrying about the logistics of just getting into where they were kept.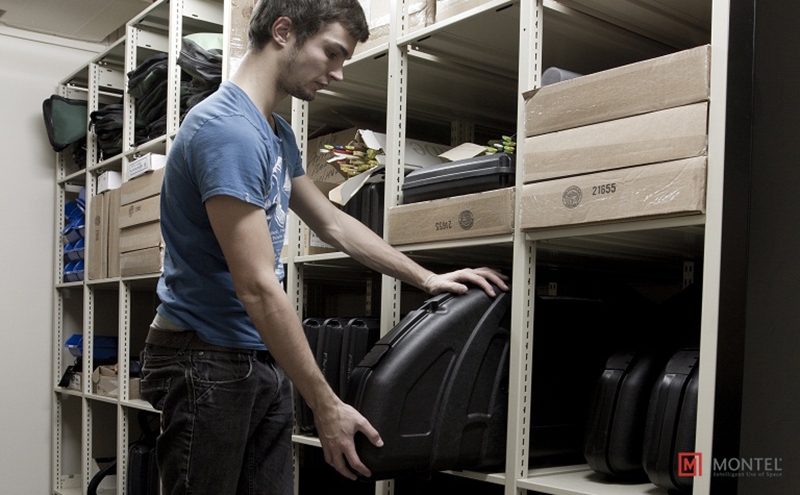 Intelligent, efficient organization
A ballad may not be printed on the same size paper as a concerto, nor will it have the same number of pages. These height and width variations make storing large, eclectic collections of sheet music difficult and inefficient.
Thanks to SmartShelf technology in its mobile shelving installation, Northwestern can organize its collection according to size, then tailor each shelf to the exact dimensions of its contents. Better still, users can implement changes as soon as storage needs arise. SmartShelf adjustments don't require special tools or professional assistance. All it takes is a pair of hands and a few spare minutes.
Ease of access
Is mobile shelving strong enough to hold centuries worth of sheet music? More importantly, will users be able to open units stocked with hundreds of pounds of paper?
Mobilex mobile shelving systems are engineered precisely for handling the heaviest weights with the lightest effort. Users need only apply about a pound of force to move fully loaded shelves. The secret is Montel's SafeCrank handles, which separate shelving units with a quick turn of their ergonomic knobs.
The University of Northwestern chose our original SafeCrank with its switch-lock design. Since then, we've updated our popular mechanical-assist mobile shelving handles by changing the switch to a push-button mechanism. See the latest SafeCrank model here.
Mobile shelving will make any storage space sing! See for yourself how many applications and environments Mobilex mechanical-assist mobile shelving serves.