Legal marijuana is an industry as financially advantageous as it is operationally risky.
In North America alone, Arcview Market Research reported that regulated marijuana sales reached $6.7 billion in 2016, an increase of 30 percent over the previous year. But that's just the start. At its current rate of growth, researchers predict that sales of legal cannabis in the United States and Canada will nearly triple over the next five years.
As North America continues to embrace medical and recreational marijuana with open lungs, grow operations, dispensaries and related enterprises have discovered the many ways this emergent industry eats at their resources like a stoner during a late-night munchie binge.
1. Elusive warehouse vacancies
Cultivating and distributing anything requires storage areas. Consider Denver, Colorado, which we'll use as a microcosm for what's happening with commercial weed-growers. By the end of 2016, grow operations accounted for nearly two-thirds of all Class B and C industrial space in the area, according to CBRE. A similar story plays out everywhere marijuana is legal: Vacancies are hard to find.
2. High cost of space
Even when cannabis businesses do find appropriate space, warehouse owners are likely to charge them more for use, either because of perceived elevated risks or, in the case of properties once occupied by marijuana growers, because of a proven track record for usage. Again turning to Denver as an example, one square foot of space is sometimes two to three times more expensive for marijuana growers than it is for companies operating in agriculture.
3. Energy expenses
Growing marijuana is an energy-intensive process. It requires around-the-clock lighting, heating, cooling and ventilation. According to estimations from an oft-cited cannabis-related energy study from the Lawrence Berkeley National Laboratory, legal and illegal marijuana growth accounted for 1 percent of total energy consumption in the U.S. in 2012. That was five years ago, and while many grow ops endorse the use of energy-efficient practices, there's no telling whether their desired sustainability has kept commensurate with the market.
4. Water consumption
Although tragically underreported, a single marijuana plant requires, some estimate, around six gallons of water daily to produce a viable harvest. Now multiply that by thousands of plants growing year-round. Again, for the sake of the environment and drought-ravaged regions where marijuana is legal (we're talking to you, California), the cannabis industry must do more to use water intelligently.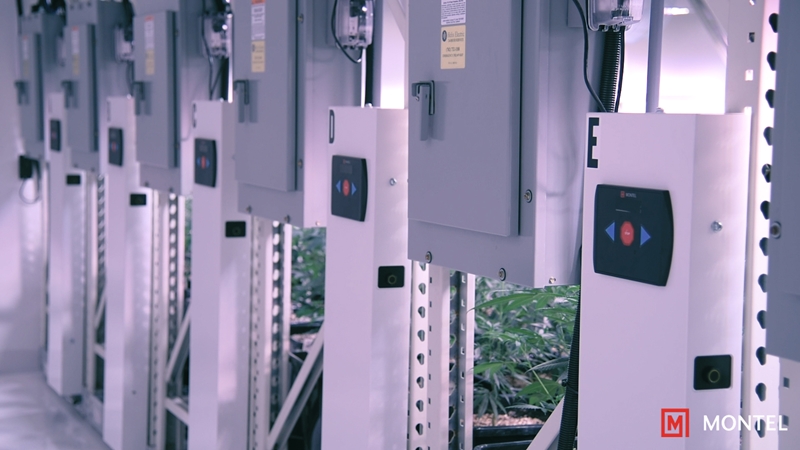 Montel knows what it takes to grow marijuana commercially
In 2015, Montel built a state-of-the-art high-density mobile vertical growing system for The Grove, a 16,000-square-foot medicinal marijuana dispensary in Las Vegas:
Installation included 29 42-foot-long carriages spread across four rooms.
Racks designed for optimal plant arrangement, doubling availability.
Each unit outfitted with individual fuse boxes, fans, hoses and more.
System powered by a total of 480 LED lights provided by Montel's LED grow light partner Heliospectra, makers of high-quality lighting solutions and technology for growers.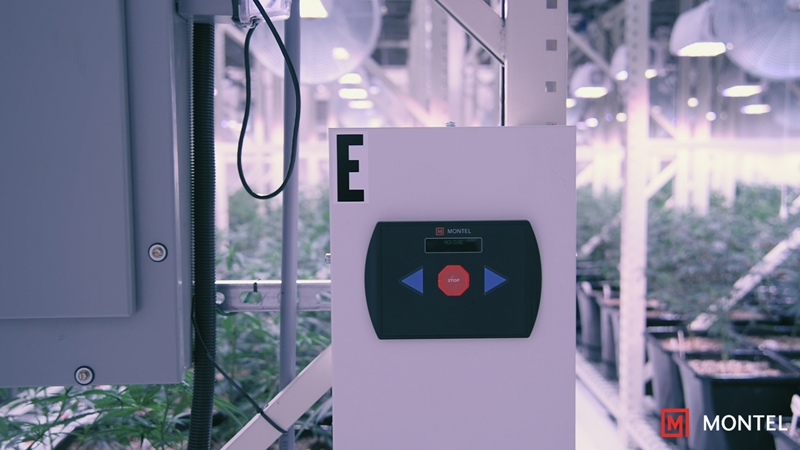 Montel is happy to announce that The Grove recently invested in SafeAisle electric mobile racking systems for three new vertical-tier grow rooms slated for completion in 2018. For more information on the high-density mobile cultivation system built in 2015, read our blog post or check out our video:
Montel mobile vertical cultivation systems address the biggest problems all grow operations and dispensaries face with exact solutions:
Optimized space: By removing aisles from the equation, legal cannabis companies can reduce their storage footprint without scaling back on yield, making warehouse space easier to find and afford.
Energy efficiency: In-rack LEDs reduce electricity needs. A condensed footprint also allows for HVAC-efficient photosynthesis and a consistent yield.
Water conservation: With watering equipment built into each unit, usage is limited to only what's necessary. Virtually nothing goes to waste.
Are you a grow operation or dispensary looking for a better way to store your plants? Contact your local Authorized Montel Distributor today to find the custom high-density mobile cultivation system for your operations. Click the links below to learn more about our strategic partners Heliospectra and AutoPot.