Steve Jobs loved whiteboards, or so the legend goes. It's hard to imagine the late mastermind behind Apple and Pixar without a whiteboard as his backdrop.
Montel actually designed a Mobilex mobile shelving for Apple headquarters in Cupertino, Calif., complete with – you guessed it – full-length whiteboards as the end panels.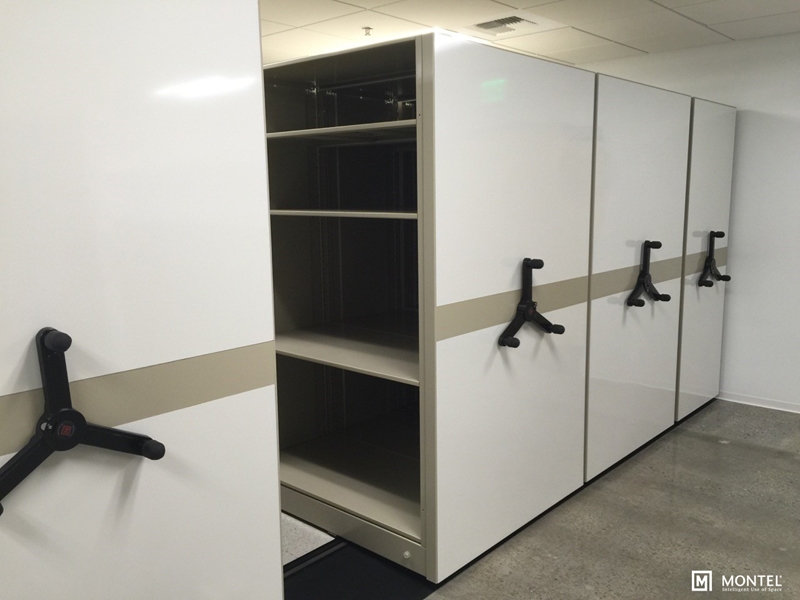 Have you ever thought about all the things you could do with end-panel whiteboards on your mobile shelving?
1. Label shelves, erase the labels, then label the shelves again
Permanent shelf labels aren't for everyone, particularly where real innovation happens. A single shelving system will need to survive several generations of products. In this sense, whiteboards pair well with the endless customization and no-tool adjustment power of mobile shelving units.
2. Informally track inventory
Are you running low on supplies but don't have a fancy computer system to track waning inventory levels? Who needs it? You've got a whiteboard affixed right to your shelving system. Log your shortages, so replenish stays on the schedule, or note your overages so procurement teams know not to waste money on an unnecessary restock.
"Save more floor space by combining the stockroom and the boardroom."
3. Host a meeting in the stockroom
Spatial limitation is the main reason many Montel customers invest in mobile shelving in the first place. Save more floor space by combining the stockroom and the boardroom, complete with a whiteboard canvas for explaining your big ideas to staff members.
4. Communicate with co-workers
You can lose a lot of valuable information between shifts. Whiteboard end panels makes sure the message gets across. Got a nugget of inspirational advice you'd like to share with your team? Say it loud and proud right on the side of your shelving. Or, maybe you want to put together a daily to-do list where everyone can see it and take action. In the end, nothing feels quite as nice as literally wiping the slate clean.
5. Leave room for doodling
Who said shelving can't be fun? Sometimes, imagination just needs free reign to flourish. Give your employees, patrons or users the space to create and the things they think up might surprise you – in a good way, we mean.