With more than 100 stores across Quebec, sporting goods retailer Sports Experts knows how to reach a wide audience of active Canadians.
Inventory excesses, however, have always been a sticking point. As athletic trends evolve, new products enter the market, and seasons change, Sports Experts found many of its stores struggling to stay ahead of demand and organize its stock.
Montel stepped in for the assist by installing three different smart storage systems across several locations, including this one in Laval, Quebec. Check out the video below or on Montel.com.
What sporting goods storage solutions did Montel build?
In the main warehouse, Montel constructed a five-carriage dual-access SmartSpace mechanical-assist mobile storage module. Each 30+ foot unit has two of Montel's patented SafeCrank handles for effortless access and pushbutton locks that hold aisles open while occupied.
In the store's reception area, which is both a storage space and a workspace, Montel installed two manual mobile shelving units. At 16 feet long each, these shelves maximize capacity without disrupting operations in the adjacent offices. The soccer and ice skating warehouses also received storage updates with two lateral sliding systems affixed to stationary shelves already in use.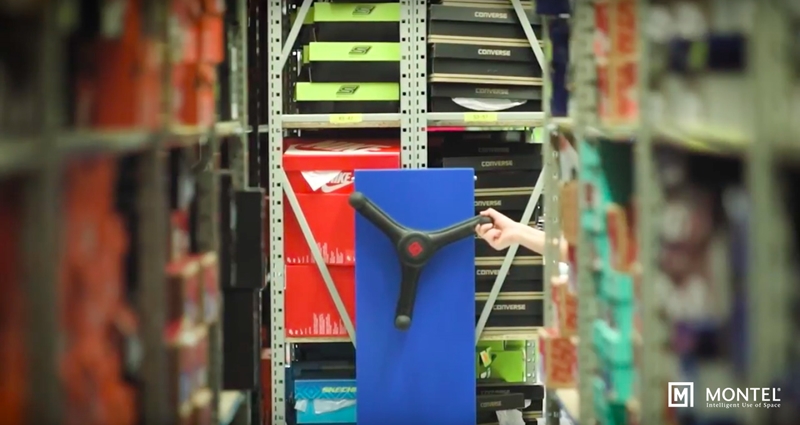 How does mobile sporting good storage help retailers do more with less?
If you've ever checked out the Montel blog before, you know that we serve many different businesses in many different industries. And while a lack of storage space is something everyone everywhere can relate to, each of our customers has unique reasons for reaching out.
Sports Experts is no exception. So how will additional storage with a variety of mobile shelving modules change how this retailer does business?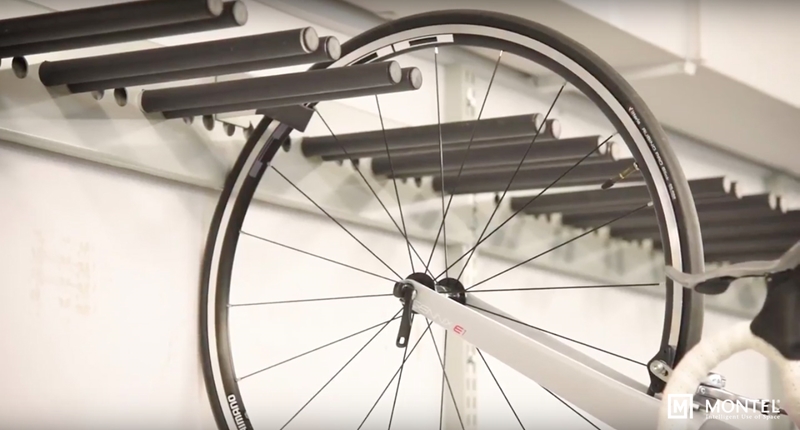 Savings from season to season
Ever wonder where footballs go in the spring? Or where track shorts disappear to in the dead of winter? The answer is obvious: They go into storage.
But when the seasons change, sporting goods retailers must rotate their SKUs. Everything still on the selling floor goes into its respective warehouse and all the latest gear moves out to where customers can buy it. Without a streamlined inventory switch-out process, things can go haywire very quickly. And if you're simultaneously scheduling deliveries from off-site storage facilities, you're guaranteed to take a hit in efficiency somewhere.
"Without a streamlined switch-out process for inventory, things can go haywire."
Instead, why not do what Sports Experts did and take full advantage of on-site storage resources? With its infinitely customizable architecture, SmartSpace mobile shelving units can conform to the exact measurements inventory managers need them to, saving valuable capacity while exhausting every cubic inch of space.
Sports Experts has the power to build storage around their products instead of trying to make do with static, prefabricated shelving. Is there a better way to design an inventory space that runs on common sense?
Refreshing replenishment
Apparel and shoes are hot-ticket items at sporting goods stores like Sports Experts, so desired that it's not uncommon for popular sizes to fly off the racks. But when customers ask store clerks to check their inventories for sold-out sizes, employees will either clinch these sales or send shoppers to their competitors.
Better organization through mobile shelving makes that possible. Speedy retrieval speaks volumes to customers. And with 50 percent greater storage efficiency than traditional shelving, retailers can order larger volumes of popular sizes and retain them on-site so replenishments are few and far between and customers are always satisfied.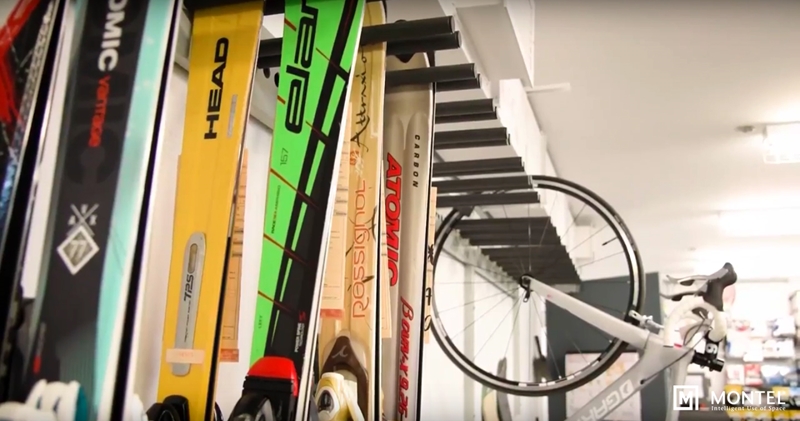 Power-packed pricing
Before bringing goods out where customers can see them, try them on and buy them, store clerks have to price everything. Sports Experts retailers conduct all their pricing operations in their on-site warehouses. Because of the limitations of static shelving, similar products may be grouped separately across the storage area, making accurate pricing a real chore.
Again, Montel saved the day with mobile shelving. Adjustable units squeeze every last drop of space out of their warehouses without overloading them. Inventory managers can arrange shoes, clothing and equipment according to their preferred organizational models. Clerks can price SKUs one at a time, thereby reducing mix-ups and mistakes.
Interested in learning more about how mobile sporting goods storage enhances any retail location, sports team or recreational center? Read about it on our blog or reach out to your local Authorized Montel Distributor today.