Artist Boris Lurie was a lot of things: a Holocaust survivor, a benevolent provocateur, a stock market master, a pioneer of the NO!art movement. What he wasn't, however, was shy about his convictions.
So when he died in 2008, he left behind a handwritten will with explicit instructions. Lurie wanted his closest friends to take the $80 million fortune he had amassed in penny stocks over his lifetime and start a foundation in his name, one that recognized and financially supported underappreciated artists who embodied the heart and soul of the NO!art movement.
Today, Lurie lives on in New York City through the Boris Lurie Art Foundation and with help from Gertrude Stein – director, art collector and lifelong friend. Stein and staff curate an extensive collection of Lurie's paintings, collages and writing (more than 3,000 pieces altogether), as well as work from other NO!artists.
With so many valuable pieces of art to preserve and so little room to work with – we are talking about New York City here – Montel designed a space-conscious hybrid art rack and smart storage installation we hope befits a legend like Lurie.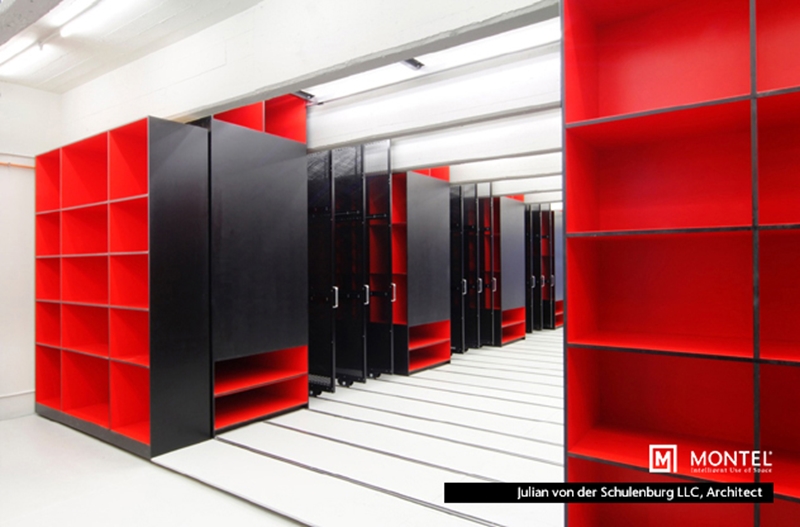 What did Montel build for BLAF?
The installation consists of seven sections, which alternate between a trio of mobile art racks and static cubby-style shelving of varying dimensions.
Each double-sided mesh art rack is slightly more than 10 feet tall, 8 feet wide and runs on a track nearly 20 feet long. Panels on the static shelving are matte black with a splash of bright red along the interior. These modules also contain narrow exhibition drawers.
A sliding divider separates the storage from the rest of the room it occupies. Montel also built longer, deeper drawers and tall bookcase shelving around the outside of the installation.
As an art historian would examine and interpret a painting, let's take a closer look at the individual brushstrokes that make this smart storage solution a real masterpiece.
"Montel smart storage is not form over function."
Color theory
No conversation on art gallery storage would be complete without touching on aesthetics. The black and red coloring makes the whole installation pop. Customers can choose from a manifold palette of colors when designing the perfect storage solutions for their unique spaces.
That said, a Montel storage installation is not, however, form over function.
Another kind of art movement
Retractable art racks allow the BLAF storage space to transform at will from safe repository for priceless works to a social environment where visitors and curators can experience Lurie and other NO!artists up close.
Both the fronts and the backs of each rack has its own hanging plane. Paintings and hardware hung from one side, therefore, do not take up space on the opposite side, which protects art from damage and doubles capacity. Each art rack track-and-wheel system is engineered for stability and smooth operation, no matter the size or weight of the paintings it holds.
It's really all about what isn't there
Is Montel's installation at BLAF merely a system of shelves and racks? Or is it an experiment in utility of negative space?
All available vacancies throughout the module serve a primary mission: to reclaim as many cubic feet as possible in the name of smarter storage. BLAF employees now have dozens of long horizontal and vertical rectangular cubbies of varied dimensions at their disposal. Regardless of how they choose to organize the collection, they can do so with unprecedented spatial efficiency and respect for the pieces therein, thus preserving it all for another generation.
Are you interested in commissioning an art storage solution all your own? Contact your local Authorized Montel Distributor today for more information or check out another instillation Montel built at the Clyfford Still Museum.